Next class will be in January 2019.
40% off the regular price of $500 for Pre-Launch Sale (for a limited time)
• Raise Your Level of Self-Love Today •

A 30-Day Online Program

Are you tired of feeling overwhelmed with every aspect of your life? Are you ready to be done with self-loathing and self-sabotage? Are you looking for a creative, and healing way to reach a higher level of self-love while establishing a level of sanity? No more mental-pause!
Journey to Self-love 30-day Course educates and supports you to build empowering daily habits across four key areas for focused mind management and wellness in as little as 30 minutes a day (depending on how much time you want to devote daily).
Commit to The Journey to Self-love's four keys – Grounding, Unraveling the Mess, Let's Get Creative, and Celebrate YOU! – and witness your self-love, mindfulness, clarity, joy, state of calm, emotional strength, self-esteem, self-confidence, passion for life, and resilience blossom and grow. It's worked for all of my past students, and I know it will work for you too.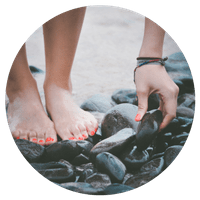 Grounding.
We all lead busy lives and it's normal to feel a sense of overwhelm on a daily basis. Journey to Self-love walks you step-by-step through daily practices to help you create a sense of calm, clarity, focus and inner peace, bringing you back to yourself – your true self – the self that's at your core that many of us do not allow to come out and play.

We tend to be there for everyone else but ourselves. It's time to put you first. Honestly, you can't play all your roles with great precision if you are neglecting yourself. Grounding establishes presence in the moment, nurturing yourself, listening to yourself and your body and increasing your feelings of emotional strength, joy and positive self-talk.
People using this Self-love practice report feelings of increased self-esteem, self-confidence, faith in themselves, more of a daring nature to take action toward their passions, self-trust and finding their voice.
Unraveling the Mess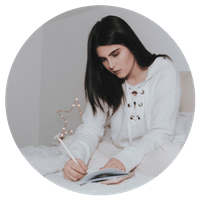 We all have issues – baggage, we've stuffed down inside ourselves, but it tends to keep bubbling up to the surface, and we usually react with stress, depression, anger, resentment, you name it. Isn't it time we finally deal with these issues and put them to rest?
Yes, you have a choice to dismiss your old story, your old habits. We have the power to forgive others (without actually telling them), forgive ourselves, let go, and create our new story. It's actually not as hard as you may think. I walk you through each step.
Once you learn the power and freedom that resides in forgiveness, letting go, positive self-talk and the specialized self-healing lessons, you will never want to go back to your old story, though you will learn an appreciation because you should always remember how far you've come and we all started with our old story.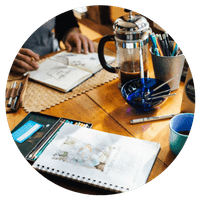 Let's Get Creative

When we tap into art or music or writing or whatever it is that we have a passion for, it releases something wonderful lurking inside our soul. Freeing our creative genius opens us up to beauty we've never even witnessed in the world around us and the beauty of ourselves and in life.
When we take time to be creative, we begin to see wisdom and knowledge and life in a different way. We will be creative together in these lessons in our own ways that speak to us as individuals.
We will also be considering our passions that we may have put on a back burner or even forgotten about – because life happens. I know, life has happened to me, too. We put things up and never make time for them again. We will dust off a few of those ambitions.
And it's not just about working with our hands; it's also about working with and strengthening our minds through visualization.
Celebrate YOU!!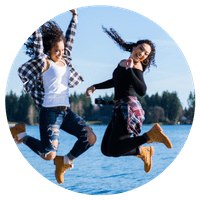 Do you normally celebrate yourself and your accomplishments? Do you reward yourself? Do others celebrate you? These lessons are focused on the celebration of you and all you've done, not just in the lessons you've completed and the success you've found so far through this course, but in your life.
There is really something to celebration of the self that moves you so much closer to a self-love you've been dreaming of. When you take time out for yourself and celebrate you the way you want to be celebrated, you not only uplift yourself, but you find so much love and joy from this practice, that you cannot help but to share it with others. You will be celebrating everyone else, too, and wanting to uplift others – even complete strangers.
In order to reach the impact you want with these lessons, you have to do the work. We can't just read the words and not take action. These are daily actionable tasks that are meant to be built upon each day. So if you are willing to do the work and put in the time and effort, then you are ready for this course and ready for self-love.
You will have morning and evening journal questions to complete and submit each day. Journey to Self-love responds to your submissions with daily feedback, encouragement, and support.